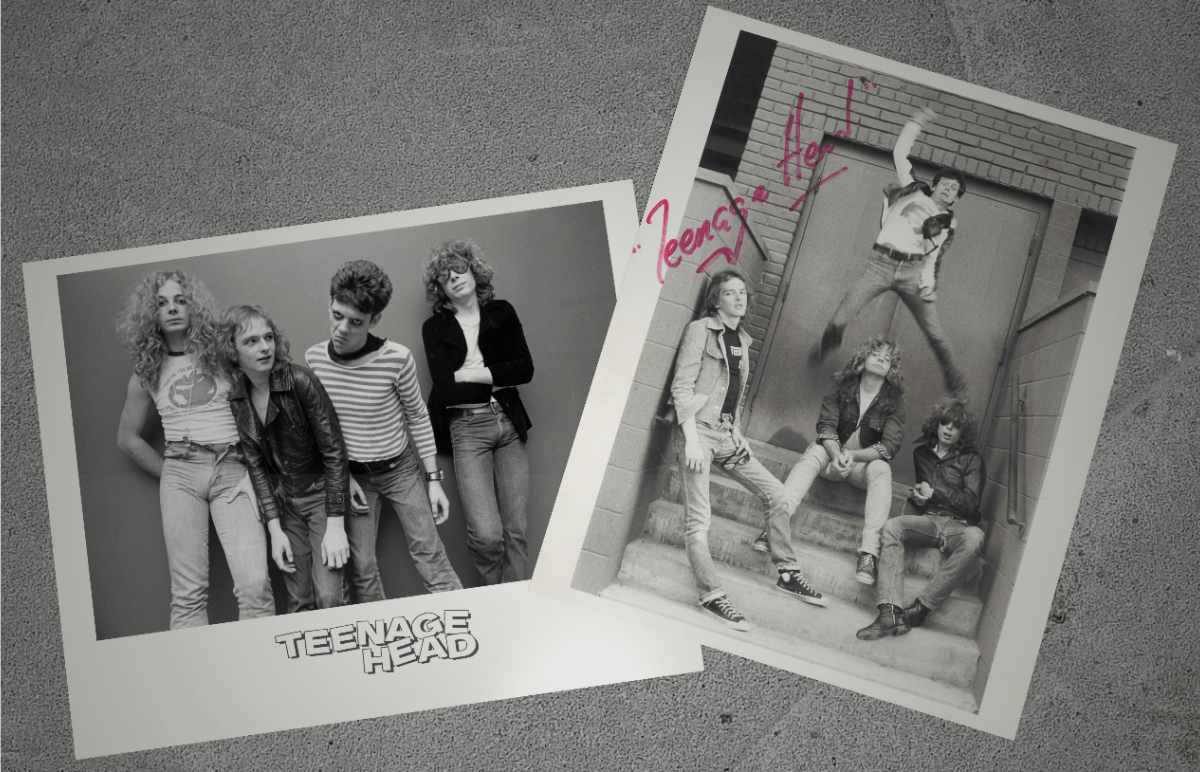 FOR IMMEDIATE RELEASE:
CANADIAN PROTO-PUNK GREATS TEENAGE HEAD RELEASE 'PERFORMANCE: LIVE AT HEATWAVE'
First time ever released! Vinyl LP and DVD Documentary Film
In the summer of 1977 when the whole punk scene was blossoming in Toronto, word hit the street that some big-time manager was looking for the best punk band in Toronto. That guy turned out to be John Brower and he decided the best Toronto punk band was Teenage Headfrom Hamilton, Ontario, and the area's answer to the Ramones, New York Dolls, and Stooges. And Brower's decision was a wise one – Teenage Head (comprised of singer Frankie Venom, guitarist Gord Lewis, bassist Steve Mahon, and drummer Nick Stipanitz) quickly became the most popular Canadian punk band, on the strength of such classic studio efforts as 1979's self-titled debut, 1980's platinum-certified Frantic City, and 1982's gold-certified Some Kinda Fun.
But it was on the concert stage that Teenage Head was best experienced. And now, fans will be able to hear a vastly sonically improved version of one of their most popular shows recorded in 1980, with the arrival of Performance: Live at Heatwave on September 5, 2023 via SINGMarket.
Pre order link here:
https://market.singidea.com/market/asset/b1933438-b2e1-4dde-a5d0-6912cc8baff3
"Teenage Head was never booked to play the Heatwave Festival, that's why our name never appeared on the poster or the ticket!," remembers Mahon. "After our infamous sell out show at Ontario Place on June 2nd, 1980, we were set to headline a festival to be called the 'Canadian Rock Festival' on August 20th at Exhibition Stadium during the CNE (Toronto's annual summer fair). Alice Cooper was set to play the same venue the night before, but when it turned out that Alice was not exactly in shape to get through the show, the thousands of fans in the Stadium expressed their unhappiness and ripped the place apart and did extensive damage to the sound system, as a result our show was cancelled. Our management team contacted our early supporter John Brower who was the promoter of Heatwave and of course he offered us a slot. Our set was recorded by Doug McClement on 8-track half-inch tape on his Comfort Sound truck."
And according to the bassist, it turns out that the performance became one of the band's best-known out of near-tragedy. "On September 7, 1980, a little after playing Heatwave we suffered a terrible accident traveling home from a gig in Palmerston, Ontario. Gord's injuries were devastating, he was out of commission for the better part of a year. So, knowing we weren't able to play the 3rd annual broadcast on Halloween, we quickly went into Amber Studios, also in Toronto. There, we mixed the Heatwave show, which Q107 did broadcast on Halloween 1980 (which explains all the not-so-great bootleg versions). It's very possible that we may have never pulled that tape from the vaults had it not been for that accident. We are really lucky to have had these tapes. Now thanks to the wizardry of Peter Moore we finally have a great version that captures the power of the day. Doug Arrowsmith used two songs in the documentary Picture My Face: The Story of Teenage Head – and here are the rest."
Performance:
Live at Heatwave will be available as a killer deluxe package (see below for details), as well as less expensive offerings that focus solely on the 1980 performance. But either way, fans of Teenage Head are in for a special blast from the past, according to Mahon – "So kick back, crank it up, grab a cold one and transport back to Mosport Park, August 23, 1980, it's a TEENAGE HEAD PERFORMANCE LIVE AT HEATWAVE."
SING Deluxe Package – includes vinyl and DVD documentary film
Physical Items:
• LP: pink 180g high-quality vinyl with fluorescent green and yellow splatter
• CD: of entire album w/ bonus encore C'mon Everybody
• DVD Documentary: Picture My Face – The Story of Teenage Head
• 2' x 3' Poster
• 2 x 8" x 10" b/w 1980s-era band glossy photos
• 4 x 4 sticker of album cover
• Actual size Heatwave ticket stub reproduction
Digital Collectable High Resolution Items:
• MP3s of all album tracks
• Audiophile WAV files of all album tracks (including the encore track C'mon Everybody)
• Front cover of album
• Back cover of album
• Front of album insert
• Back of album insert
• 2' X 3' Teenage Head iconic live poster
• Two vintage setlists
• Two vintage 8" X 10" photos
• Two lyric sheets
• Heatwave ticket stub
PLUS:
• Golden Ticket to win a Fender bass guitar signed by Stephen Mahon!