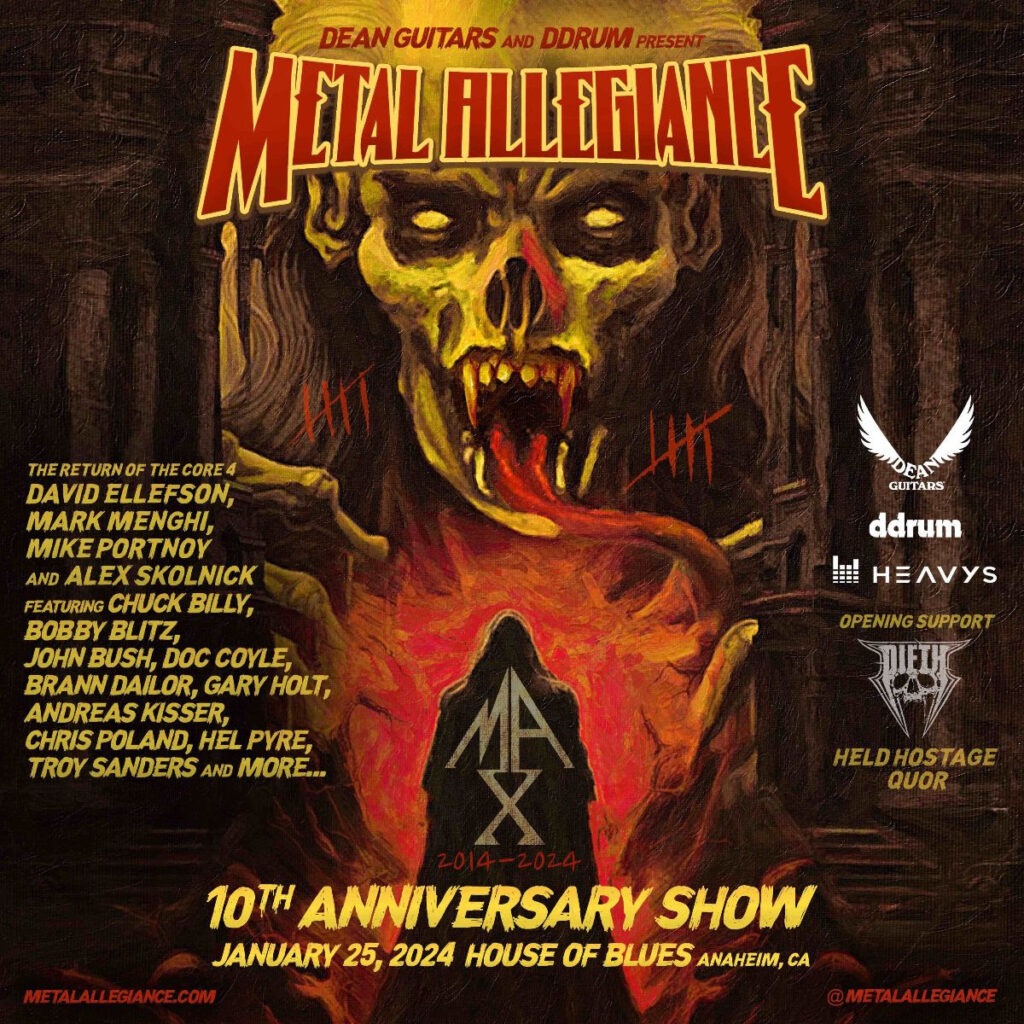 FOR IMMEDIATE RELEASE:

METAL ALLEGIANCE SET TO ROCK ANAHEIM WITH SPECIAL 10th ANNIVERSARY SHOW ON JANUARY 25TH 2024
METAL ALLEGIANCE began as a celebration of heavy metal, powered by the almost tribal bond shared between the extreme music community's most revered trailblazers, armed with a list of contributors onstage (and off) that read like a Wikipedia entry on the genre itself. 
On January 25th 2024, the band will re-assemble at The House Of Blues Anaheim for the bands 10th anniversary celebration (which will also coincide with the return of the Winter NAMM show). The night will be sponsored by Dean Guitars, ddrum and Heavys Headphones, with opening acts being Dieth, Held Hostage and QUOR. 
 
The last time Metal Allegiance played at the House of Blues Anaheim was in 2020, right before the world shut down; the show garnered rave reviews, such as North East Rock Review saying "I have attended a couple Metal Allegiance shows over the years and they seem to get better every year. When attending the NAMM show, this is one of the shows not to miss." Additionally, LA Metal Media added, "Metal Allegiance is an incredible coalition of the metal community's most incredible and notable musicians today; a coalition that pays tribute to some of the best metal music ever written. Be sure to check out this amazing assembly of metal greats if you can whenever they play live."
Metal Hammer raved about one of their past Anaheim shows, "Tonight the mayhem rises exponentially as a platoon of legends descends on the House of Blues – tucked deep in the heart of downtown Disney – even the besieged bar staff pause to witness the carnage." while Cryptic Rock suggested, "Anyone who has the chance to see this should run, not walk, and join the Allegiance."
"When Metal Allegiance first came together in 2014, no one could have guessed that ten years later, we'd be planning this anniversary show. The world feels different now than it did then, but we're still here, music still unites and that is cause to celebrate. Among the many MA highlights over the past decade have been our shows in Anaheim, which always create a lot of great memories. This time will be no exception and no better way to mark our ten-year milestone. See you there!" – Alex Skolnick
 
Tickets can be purchased starting October 13 via Ticketmaster here https://tinyurl.com/4zxafxvh
 
Also available will be a VIP upgrade package, which will include:
 
• Early access into the venue
• Exclusive pre-show Meet & Greet with members of Metal Allegiance 
• Personal photograph & autograph signing with members of Metal Allegiance
• Collectible show poster (which they'll happily sign for you)
• Official Meet & Greet VIP laminate
• Crowd-fee access to the merch booth
 
VIP packages can be purchased via http://metalallegiance.bigcartel.com/product/vip-meet-greet-hob-2024
Please keep in mind that this is a VIP upgrade only.  A ticket to the concert is required to attend pre-show meet & greet.
"I never in my life imagined a band like MA would exist, let alone write and record one record… here we are a few records, an EP and many shows/tours later celebrating our 10th year of existence. Pretty surreal. It's been a minute since the 'Core4' have been in the same room. Excited to see my brothers, jam and laugh w/ them again. Only one place to kick off the festivities and that's our home away from home at the House of Blues in Anaheim Cal-i-forn-i-A." – Mark Menghi
 
Since the band's inception in 2014, Metal Allegiance is comprised of the core 4 members of (Mark Menghi – bass, songwriter, Alex Skolnick – guitars, David Ellefson – bass, and Mike Portnoy – drums), and has issued two full-lengths (2015's self-titled debut and 2018's Volume II: Power Drunk Majesty) and an EP (2016's Fallen Heroes). 
 
In addition to Menghi, Portnoy, Skolnick, and Ellefson, the show will feature John Bush (Armored Saint), Chuck Billy (Testament), Troy Sanders (Mastodon), Brann Dailor (Mastodon), Andreas Kisser (Sepultura), Bobby Blitz (Overkill), Gary Holt (Exodus/Slayer), Doc Coyle (Bad Wolves / God Forbid), Hel Pyre (Nervosa) and Chris Poland (ex-Megadeth), among others in addition to their usual unannounced surprise guests.
Members of Metal Allegiance are certainly looking forward to the show:
  
"Metal Allegiance's annual Anaheim shows are always one of the metal events of the year! This will be our return to Anaheim for the first time since our last show there weeks before the world shut down at the beginning of 2020, so I can't wait to get back and throw down with my metal brothers and sisters once again! \m/ " – Mike Portnoy 
 
"It's hard to believe it's been 10 years since we started Metal Allegiance out on the Motorhead Motorboat Cruise, but here we are, a couple of albums and a whole bunch of shows later, celebrating the strength and resilience of heavy metal together. Looking forward to the show as everything is back in the swing during NAMM 2024!" – David Ellefson
 
"Great to be part of this killer 10-year event with MA. The head-banging doesn't get any better than this!" – Bobby Blitz (Overkill)
 
"I am thrilled to get the band back together for a 10th anniversary Metal Allegiance throwdown! We look forward to another memorable show with all our friends!" – Troy Sanders (Mastodon)
"So stoked to be able to return once again to Metal Allegiance for the 10-year anniversary of the world's foremost collection of metal maniacs, all sharing a stage together! It's been way too long, I am fired up for this! Bring it on!" – Gary Holt (Exodus / Slayer)