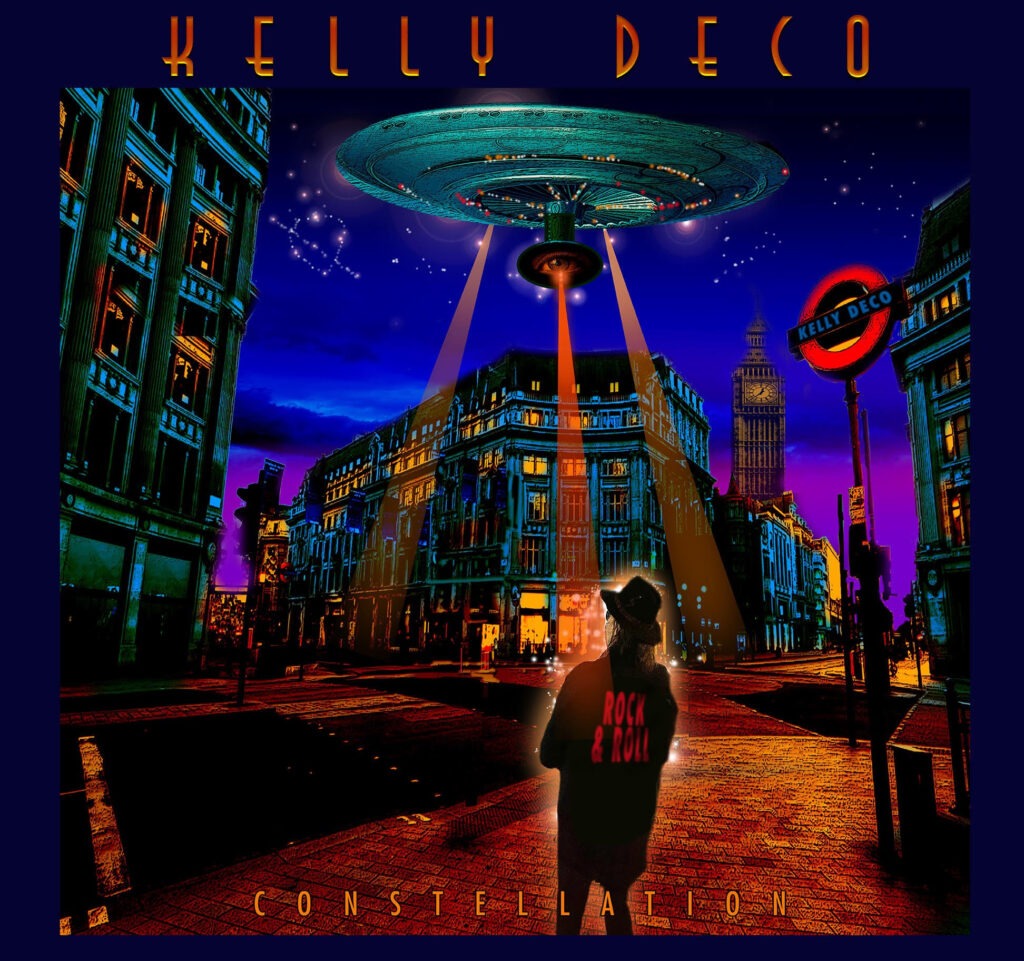 FOR IMMEDIATE RELEASE
 
VINTAGE-FUTURISM STORYTELLER KELLY DECO RELEASES NEW LYRIC VIDEO, "CREATURE DREAMS", JUST IN TIME FOR HALLOWEEN. HIS LATEST ALBUM CONSTELLATION IS PRODUCED BY THE FIVE-TIME GRAMMY WINNER VAL GARAY (LINDA RONSTADT, JAMES TAYLOR, KIM CARNES).
Steeped in the magic and mystery of an artist's life in the Hollywood movie machinery, vintage-futurism storyteller Kelly Deco moves
through space and time with imaginary twists on figures we sometimes see in the sky and know in our hearts. The stars first aligned for Kelly in 1990 when the release of "Big Fish" and the independently produced video for "No Reality" (directed by Wayne White, three-time Emmy award winning designer for Pee-Wee's Playhouse and Peter Gabriel's "Big Time") became widely publicized. The "No Reality" clip was played on numerous nationwide video programs. In 1991 it garnered national attention; it ultimately charted in Billboard's "Viewers Top Request," and was the most requested video on Night Tracks.
Deco's latest album Constellation was produced by legendary and Grammy award winning music producer Val Garay (Linda Ronstadt, James Taylor, Kim Carnes, etc.) and released through Deko Entertainment. The album has eleven brand new songs with standout tracks "Automat Girl", "David Bowie's Brain", and the latest single and video "Creature Dreams" As Deco states, "You are from the sky. Do you wonder why?"
View lyric video for "Creature Dreams: https://youtu.be/xLwekLw3KWE
If you are looking for Retro-futuristic, rock, love, and fantasy. Songs with a mix of old 70s rock and futuristic spins on Bowie, Meatloaf, Anthony Newley, and an eclectic mix, Constellation is the album for you. 
"Do you long for the grand, sweeping, cinematic sound of '70s rock? If so, then the latest release by the Kelly Deco Band, Constellation, may serve as a much-welcomed musical time machine." – Classic Rock History 
"Remember the days when such '70s/'80s greats as Supertramp, Styx, and the Alan Parsons Project ruled the charts and arenas? Those days are long gone, but the new release by the Kelly Deco Band, Constellation (which was produced by 5-time Grammy winner Val Garay), certainly brings to mind the aforementioned period/artists." – Brave Words
You can order Constellation here and get select bundles while supplies last: http://bit.ly/3G04L7E
Includes:
One (1) – Kelly Deco Constellation CD
One (1) – 10×10 album cover flat signed by Deco and renowned artist Ioannis
One (1) – Kelly Deco Eye T-Shirt
Tracklist
"Destination Fascination"
"Turn It On"
"David Bowie's Brain"
"Constellation"
"Automat Girl"
"Creature Dreams"
"Waiting for the Girl"
"Mr. Tomorrow"
"Voyage to the Silver Sun"
"Dancing at the Fall"
"Gone"