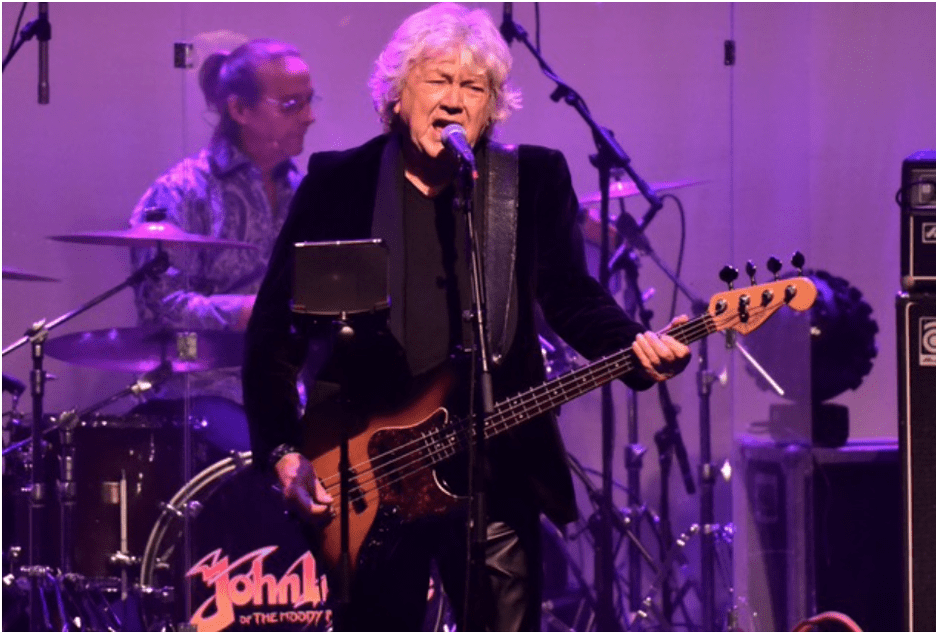 FOR IMMEDIATE RELEASE:
 
The Moody Blues' John Lodge Performs "Days of Future Passed"
Playing the iconic album in its entirely
Plus a selection of CLASSIC HITS
John Lodge
Vocalist, Songwriter and Bass Player in the Moody Blues
John Lodge, legendary bass player, songwriter and vocalist of The Moody Blues, and Rock and Roll Hall of Famer, will be back on tour in February and March 2024 in the USA! Following the critically acclaimed sold out shows this year, John is continuing in his celebration of 'The Moody Blues' music, and the iconic album 'Days of Future Passed.'
'Performs Days of Future Passed' encompasses a first set of electric Moodies classics featuring all the fan favourites such as 'Isn't Life Strange', 'Legend of a Mind', 'I'm Just a Singer (in a Rock and Roll Band)', 'Ride my See-Saw', and so much more. The second set will see John and his band perform the groundbreaking album 'Days of Future Passed' in its entirety and in full symphonic sound. There are exciting changes from the original show, with new classic songs and deep cuts, enhanced video and dazzling lighting, all coming together to make a very special evening of great music and Moodies memories…. Come take a journey back in time with John and his 10,000 Light Years Band as they create audio alchemy for your listening and visual pleasure!
As Beneath a Desert Sky said, 'a must see show if you love classic progressive rock music or The Moody Blues music.'
Tickets go on sale from Friday 13th October, with VIP packages also available including a personal Video Message from John, autographed poster, tote, laminate and exclusive merch item! All ticket links at www.johnlodge.com/tour.
The show also features a special video and recording by the late, and missed, Graeme Edge of his poems 'Morning Glory' and 'Late Lament'. Graeme wrote these poems for the album, but they were originally spoken by Mike Pinder. John asked Graeme to record them so that he could always be on stage with him. Jon Davison of YES also joins John to perform the classic songs, "Nights in White Satin" and 'Tuesday Afternoon'. Jon is John's son-in-law and great friend, having originally met back in 2019 on the 'Royal Affair' Summer Tour with YES, Asia, John and Carl Palmer.
"The show came about following conversations with Graeme, Alan (Hewitt) and Jon (Davison)… This album and these Moody Blues songs changed our lives, they may even have changed the fans lives, and I felt they deserved to still be heard and experienced live as they were originally intended. My hope is that coming to one of my shows, you can close your eyes and we can all take a moment to turn back the clock as we celebrate this music together. Alan, Jon, and my band have done an incredible job in realizing my vision. It was always important to me to remain true to the original whilst at the same time use modern sound and all the wonderful new technology to reveal the richness of these songs. The tour, as with the album, is dedicated to Graeme, Justin, Ray and Mike, and to every fan, whether they joined back in 1967, or on any day since"
'Days of Future Passed' was released 56 years ago, and was arguably the start of progressive rock. These songs began the long standing cross-over between rock and classical music, and the Moody Blues shows were always known for recreating this incredible sound, and for the wonderful atmosphere. John has surrounded himself with a band that are equally passionate, who put simply, love performing together, and who appreciate and respect the legacy of the music.
The electrifying show will also be in support of John's album 'Days of Future Passed – My Sojourn', available now on CD and all streaming services, with a limited edition 180g Red Gold vinyl album available from Nov 24th:
https://slinky.to/DaysOfFuturePassed
Dino Ciliberti recently reviewed one of John's shows and said "to hear this one more time just shows the magic of music and an album that will always stand the test of time", and Gary Graff, "a loving and precise recreation". Come and be taken back to the live Moody Blues shows of the past, with songs you love, featuring John Lodge, and tributes to all his bandmates.
Joining John on stage is his '10,000 Light Years Band', long term collaborator Alan Hewitt (Music Director and Keyboards) and Billy Ashbaugh (Drums) from the Moody Blues touring band, together with Duffy King (Guitars) and Jason Charboneau (Cello). Jon Davison of YES will also be joining him for his special renditions of 'Nights in White Satin' and 'Tuesday Afternoon', plus the magical voice of Graeme Edge. "Every time we hit the stage, I appreciate just how great this music is. I love to watch how much the John Lodge/ Moody Blues fans go on a musical journey with us during our shows." Alan Hewitt, Oct 2023.
Watch John's video for Peak Hour from the album: https://www.youtube.com/watch?v=r37cPogF23U
'If you love The Moody Blues music, then you really need to checkout John live. He and the band put on a great show!'
John Lodge is bass guitarist, vocalist, and songwriter for the iconic Rock & Roll Hall Of Fame 2018 inductees, The Moody Blues. Songwriter of such mega Moody Blues hits from "Ride My See-Saw," to "I'm Just A Singer (In A Rock and Roll Band)," "Isn't Life Strange" and many more. Lodge has been performing and recording with The Moody Blues for more than five decades, selling in excess of 70 million albums, as well as releasing his three solo albums 'Natural Avenue', '10,000 Light Years Ago' and 'B Yond'.  Lodge has been voted one of the "10 most influential bass players on the planet," and has been the recipient of many awards, including ASCAP (American Society of Composers and Publishers), an Ivor Novello Award, a Lifetime Achievement Award from Prog Magazine, to name just a few.
Here are the tour dates for The Moody Blues' John Lodge 'Performs Days of Future Passed' Tour:
Feb-24    The Savannah Center at The Villages, FL (on sale 2024)
Feb-25    Seminole Casino in Immokalee, FL (on sale week of 10/24)
Feb-27    Capitol Theatre in Clearwater FL 
Feb-28    Ponte Vedra Concert Hall in Ponte Vedra, FL
Mar-02    State Theatre in New Brunswick, NJ
Mar-03    The Warehouse in Fairfield CT
Mar-05    Patchogue Theatre in Patchogue, NY
Mar-06    Tarrytown Music Hall in Tarrytown, NY
Mar-08    Keswick Theatre in Glenside, PA
Mar-09    Infinity Hall in Hartford, CT
Mar-10    Bardavon Opera House in Poughkeepsie, NY  (on sale week of 10/16)
Mar-12    The Strand in Providence, RI (on sale week of 10/16)
Mar-13    Nashua Center for the Arts in Nashua, NH
Mar-15    The Colonial Theatre in Laconia, NH
Mar-16    Memorial Hall in Plymouth, MA
Mar-17    The Wilbur in Boston, MA (on sale week of 10/16)
Mar 21 -28    Flower Power Cruise in Miami